You can expect creative thinking, detailed planning, and exceptional project management. The craftsmanship and attention to detail is just what the customer ordered.
Since each project featured in this gallery was contracted, this gallery serves only to show Paul's talent and workmanship. If you see a project you would like reproduced or have a picture, sketch or idea, contact Paul to discuss the project and cost.
Constructed of cedar, this 15′ circular bar top has an epoxy water tight finish.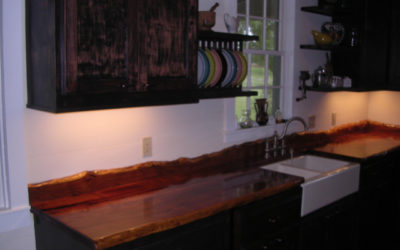 The owners of this farm house, built in the 1920's commissioned Paul Kendall to build a Natural Wood counter top.The client wanted Mesquite counter tops with natural edges on the front of the counter top and the top of the backsplash.Water tight double epoxy was...