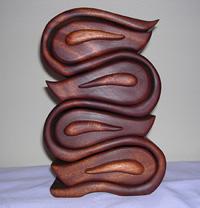 Mesquite wood is hard, allowing it to be used for furniture and implements. It is highly desirable due to its dimensional stability, after being fully cured.
Mesquite is an expensive wood. It grows only about half an inch a year during optimum conditions when there's lots of rain and ample growing space available. In addition, locating just the right tree or previously harvested lumber for a specific piece may take some time. The wood must then be kiln dried for 60 days or, in some cases, longer.
The most important thing to know is that the end product is well worth the expense and wait.
Private Instruction
Paul provides private training tailored to suit the requirements of the student. The Beginning class is structured to cover basic principles, including advice on equipment, materials and safety. The pace is flexible enough to take into account individual needs. The course can be taught at the student's location, using their own lathe. Bowl turning will be the first project.
Advanced Private Instruction
Courses aimed at those who have developed a sound understanding of basic practices and principles are available as well. Those who aspire to projects that require a greater level of skill will learn to turn Natural edge bowls, Christmas ornaments, and other more sophisticated projects.